Healthier legs after just 15 minutes of use per day
✔ Relieves Plantar Fasciitis & inflammation.
✔ Improves blood circulation by stimulating specific trigger points
✔ Perfect for women being all day at work
​✔ 96.6% of Users Reported Feeling Immediate Relief
✔ 45-Day Money Back Guarantee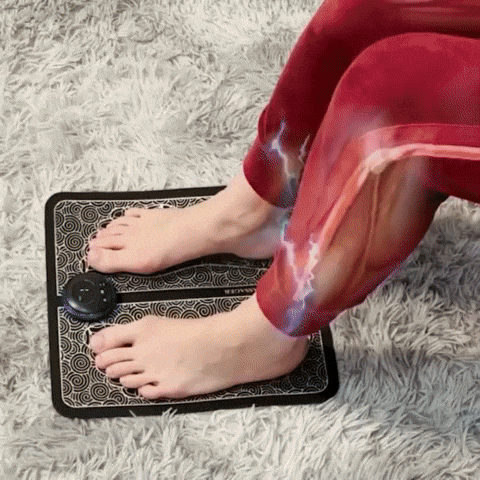 This New Technology is treating Plantar Fasciitis 91% More Effectively
Shockwave Stimulation Massage works by hitting specific trigger points on the foot sole, which don't get enough blood flow and are responsible for plantar fasciitis. This way it achieves high-blood circulation in those areas and as a result it slowly activates your feet again and gets rid of pain & plantar fasciitis. If you sit long hours for every day, this method will provide you with complete relief.
The Shockwave Stimulation Massage method:
Stimulates specific trigger points
Improves blood circulation in those areas
Strengthens lower leg muscles
Gets rid of Pain & Plantar Fasciitis
Slowly activates your feet again
96.6% of our Customers Reported Feeling Immediate Relief:
96.6% of our customers felt instant foot pain relief
91.5% of our customers reported visible reduction in swelling
90.9% of our customers COMPLETELY Healed Plantar Fasciitis
94.3% of our customers are using it daily and have recommended it to their friends & family
How To Use
After a long day of hard work or even simply wearing a pair of uncomfortable shoes, just 15 minutes per day relaxes your feet, helps you maintain healthy blood circulation in your legs, provides fast-acting relief from swollen legs and feet, and eases tired, aching feet.
STEP ONE:
Attach the operator device to the foot mat, which uses three buttons to control different functions.
STEP TWO:
Place both feet on the floor, press the "+" or "-" button to turn on the device, and adjust the intensity. Press "M" to switch the modes.
STEP THREE:
You are ready to experience a clinic-like massage in your own space. For effective results, use for 10–15 minutes a day, 3–4 days a week.
Specification:
Massage Principle: Magnetic, EMS Micro Current
Specifications: English
Item number: EMS Acupoints Stimulator Massage Foot Mat
Power: USB Rechargeable
Packing list:
1* EMS Acupoints Stimulator Massage Foot Mat